STOP THE MONOTONY 📣
Start living your OWN truly happy and successful life today, with our free workbook.Subscribe to get it now.
Learn how to go from paralysed to living your own truly happy and successful life. This downloadable workbook takes you from being paralysed to living your OWN truly happy and successful life. It's our gift to you!
Download our free workbook (US$500 value) by subscribing to our inspirational newsletter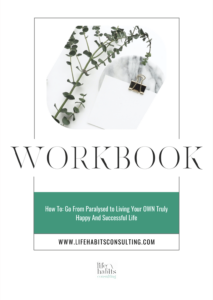 It has been 10 years since my last interview. I was very nervous to interview for the Design Manager position at one of the largest corporations in the world.
Before my sessions with Janet from Life Habits Consulting Limited, I thought I had everything prepared for the interview and just needed some final touches to improve on my image. What I learnt at the end was way beyond my expectation! Janet taught me so much from how to improve my body language to tone of my voice/wording, executive presence and much more. Like Janet would say, only 30% of what you say matters.
I was offered a higher position - a Director role with extra pay at the end. I can't recommend Janet enough and am SO grateful to the life changing work she does.
I came to Janet because I knew the real benefit and life changing power of what Janet had to offer and to power my personal life which would help me serve others in my professional life. Working with Janet completely blew my expectations away and Janet is incredibly passionate, professional and authentic. From the moment that I worked with her, I felt calm and in total confidence as Janet displayed her professional experience and I completed a full Rapid Transformational Therapy (RTT) program with her which rapidly targeted the areas in my life that were limiting my self confidence, and personal power.
Janet was able to use her unique ability to understand, help clarify and target my subconscious mind before guiding me to explore and input a new belief system that was exactly what I needed to change my life. As a result, because of these profound changes, I wake up everyday with confidence and been able to be present and grateful for my life and the people that I help in my professional career. My business has really taken off and I feel the difference. Thank you Janet! I highly recommend Janet to transform your life, in more ways than one.
Blog reflections on Mindset & Wellbeing, Image Consulting & Personal Branding, and Professional Organising & Productivity
STOP THE MONOTONY
Start living your OWN truly happy and successful life today, with our free workbook (US$500 value).Subscribe and start mastering true success.